To enable better health… for people who are old, or who are frail
Our Ageing and Geriatric Medicine program is dynamic and innovative. It has a strong multidisciplinary focus, embracing researchers from diverse backgrounds — either as part of our core team (medicine, nursing, allied health, pharmacy, psychology) or as collaborators (biomedical engineering, health economics, data analytics, health informatics).
Our close working relationships with Queensland Health provide an opportunity to bridge the academic—clinical interface, ensuring that up-to-date research findings (including our own) are translated into practice.  
Mission Statement 
Our mission is to: 
ensure that people in hospital receive treatment that is appropriate for their frailty status and helps them to achieve their own goals of care  

better understand how frailty develops to underpin effective public health measures to promote healthy ageing for community-dwelling men and women 

partner with people who are old, or who are frail, and their caregivers to address the research questions and issues of greatest importance to them, a
train and mentor health professionals and researchers across disciplines to equip them with the skills and ambition to undertake high quality geriatric research and translation. 
Program lead: Professor Ruth Hubbard
As one of Australia's most successful geriatric medicine research organisations, our centre has a strong multi-disciplinary focus and conducts research across multiple program areas.
The FITTEST Trial: Supporting older people to participate in frailty prevention programs
In the FITTEST trial, health professionals and researchers will be studying how to improve the health and wellbeing of older people by preventing frailty.
We know that programs that promote good nutrition, regular exercise, optimisation of medicines, and social support networks can reduce frailty levels. However, these programs are not routinely available and, where they are, people do not always join in.
The FITTEST trial will compare dfferent ways to support older people to participate in frailty prevention programs.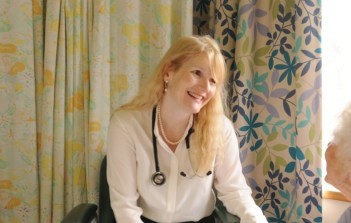 "Frailty is the most significant challenge to 'ageing well' in Australia. More than 20% of people become frail as they age. With the FITTEST trial, we want to find the best way to slow the progression of frailty by supporting older people with what we call 'The Four Pillars of Frailty Prevention and Management'. These are good nutrition, regular exercise, the right medicines, and good social networks."

— Professor Ruth Hubbard, Geriatrician and Principal Investigator
About the trial
The trial is due to commence in 2024.
We are currently seeking consumer representatives to help us to design aspects of the FITTEST trial.
If you would like to know more about this study, contact us at fittest@uq.edu.au.
Study team and funding
This study is funded by the Medical Research Future Fund (MRFF) Dementia Ageing and Aged Care Mission (APP2016045).
Professor Ruth Hubbard, Masonic Chair of Geriatric Medicine at the Centre for Health Services Research, is the Principal Investigator for this study.
The team includes Australia's leading researchers in ageing, exercise, nutrition, pharmacology, social connectedness, and implementation science.
The Program has strong international collaborations throughout Europe and North America, most prominent and enduring of which is participation in the international effort to create "multi-domain" third generation assessment systems under the auspices of the interRAI Research Collaborative.
The Program specialises in multi-national and multi-site studies, with over 30 organisations participating in its research programs over the past 5 years.
Aegium Foundation 
The Aegium Foundation of Queensland has provided extensive funding since 1989 to support the Masonic Chair in Geriatric Medicine at the University of Queensland.  In addition, financial support is offered to facilitate the "telegeriatrics" research program.
Find more information on the Aegium website.
Geriatric and Rehabilitation Unit, Princess Alexandra Hospital
The Princess Alexandra Hospital Geriatric and Rehabilitation Unit strives for excellence in patient care, education and research. The unit's mission is to work with patients and their carers to promote, maintain and improve the health, well-being and independence of patients through the provision of multi-disciplinary, diagnostic, therapeutic and outreach services.
The aim of the unit is to establish a quality geriatric service to meet current needs of the region and to improve the health of the elderly in the region. 
interRAI Australia Coordinating Centre
CHSR hosts the interRAI Australia Coordinating Centre, which responds to enquiries and provides information and support to organisations interested in or using the interRAI suite of assessment instruments. For more information on interRAI visit the websites www.interrai.org and www.interrai-au.org.
RAIsoft
The Program has a formal partnership with Finnish specialist software house "RAIsoft" which develops systems around the interRAI suite of assessment systems.  Our program has co-developed solutions for nursing assessment in acute care and specialist geriatric consultation in and beyond the hospital setting.