The FITTEST Trial: Supporting older people to participate in frailty prevention programs
In the FITTEST trial, health professionals and researchers will be studying how to improve the health and wellbeing of older people by preventing frailty.
We know that programs that promote good nutrition, regular exercise, optimisation of medicines, and social support networks can reduce frailty levels. However, these programs are not routinely available and, where they are, people do not always join in.
The FITTEST trial will compare dfferent ways to support older people to participate in frailty prevention programs.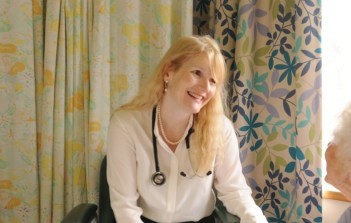 "Frailty is the most significant challenge to 'ageing well' in Australia. More than 20% of people become frail as they age. With the FITTEST trial, we want to find the best way to slow the progression of frailty by supporting older people with what we call 'The Four Pillars of Frailty Prevention and Management'. These are good nutrition, regular exercise, the right medicines, and good social networks."

— Professor Ruth Hubbard, Geriatrician and Principal Investigator
About the trial
The trial is due to commence in 2024.
We are currently seeking consumer representatives to help us to design aspects of the FITTEST trial.
If you would like to know more about this study, contact us at fittest@uq.edu.au.
Study team and funding
This study is funded by the Medical Research Future Fund (MRFF) Dementia Ageing and Aged Care Mission (APP2016045).
Professor Ruth Hubbard, Masonic Chair of Geriatric Medicine at the Centre for Health Services Research, is the Principal Investigator for this study.
The team includes Australia's leading researchers in ageing, exercise, nutrition, pharmacology, social connectedness, and implementation science.