The Centre for Online Health received a commendation in the Service excellence award category at the 2020 Faculty of Medicine Excellence Awards.
The Centre for Online Health (COH) in the CHSR exhibited telehealth leadership and provided a remarkable response to the need for telehealth expertise during this COVID response. The COH response has resulted in exceptional services and benefits for UQ and our wider community. COVID-19 has resulted in major disruption to all aspects of living and unprecedented demand on our health system. Since the onset of COVID-19, telehealth has clearly emerged as a key strategy to ensure the safe and efficient delivery of health services, reducing the risk of transmission of vital importance for vulnerable patients and clinicians. The uptake of telehealth was rapid with clinicians and patients grappling for support to provide effective telehealth services.
"This award reflects the incredible work done by our entire COH team – in all areas of research, teaching and service delivery.  With the onset of COVID-19, the COH have welcomed the increasing public interest in telehealth - and played a key role in making telehealth much more accessible in the broader community," Professor Anthony Smith, Director of the COH said.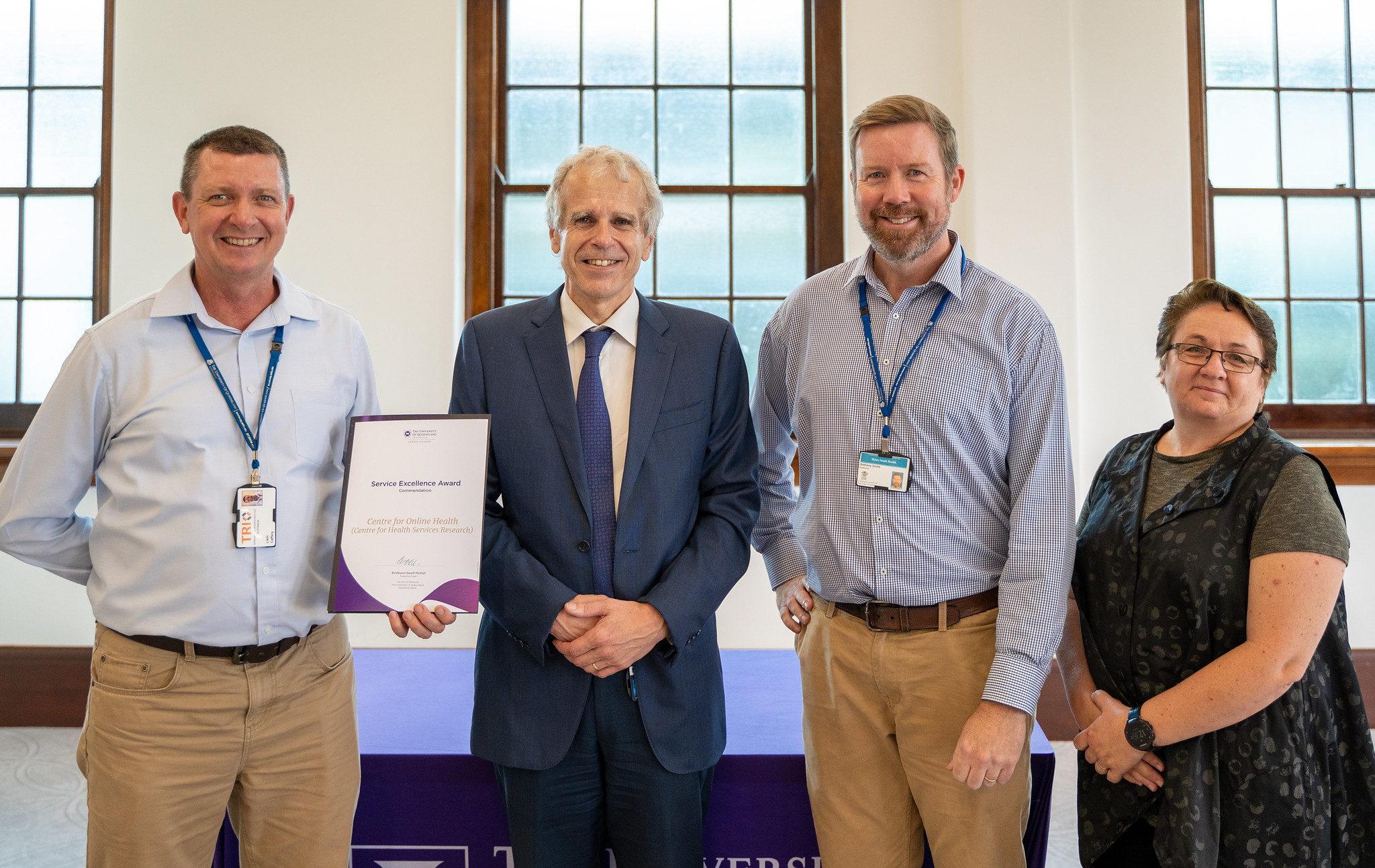 Examples of COH achievements in 2020:
Working in partnership with Metro South Health to deliver a record number of telehealth consultations (over 27,000 telehealth consultations in 12 months).
Production of telehealth quick guides for clinicians and patients - which are freely downloadable from the COH website and can be found here. These guides were developed to address most common questions and concerns being asked about telehealth during COVID-19.
Completion of a new telehealth curriculum which will be used for medical, nursing and allied health training at The University of Queensland. This was a joint Faculty partnership between Medicine and Health and Behavioural Sciences.
Telehealth webinars have been held monthly for a national audience - in response to requests for information about how to establish and provide clinical telehealth services. 
Medicare telehealth activity reports – the COH have compiled easy to read reports on telehealth activity reported through the MBS – according to modality and clinical discipline. These reports are being downloaded from the COH website on a daily basis, and referenced by professional organisations around the country.
Academic outputs: over 39 publications in peer-reviewed journals; 19 invited conference presentations and around $3m in research and consultancy income.
These COH achievements have led to tangible benefits such as increased telehealth knowledge and awareness; positive change in the way health care is delivered; improved access to care for the community; and recognition of telehealth expertise on a national and international scale.