Journal Club: On the Definition of Digital Health
13 September 2023

12:30pm

–

1:15pm
Presented by UQ's Queensland Digital Health Centre and Metro North Health's Queensland Digital Academy
This Journal Club will be a presentation and discussion on a onoing study, 'On the Definition of Digital Health: A Systematic Review & Concept Analysis'.
Speaker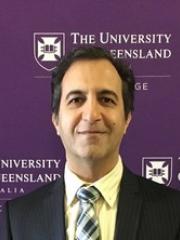 Dr Farhad Fatehi
Dr Farhad Fatehi is a digital health scientist who is focused on improving the quality, affordability, and coverage of healthcare services using digital technologies through strengthening collaboration between consumers, clinicians, engineers, and managers. In his previous role as a Research Fellow at Monash University as well as an Honorary Fellow at the Health Services Research Centre, The University of Queensland, he managed a research program on using digital health for behaviour change in people who have had a heart attack. This program was funded by Digital Health CRC. His research interests include mobile-based and cloud-based digital health solutions for chronic conditions and the use of machine learning and artificial intelligence for the prediction of health outcomes. He is also interested in digital phenotyping for personalisation of health services, with the ultimate goal of data-driven evidence-informed digital transformation of health services for improving the physical and psychological well-being of the people.

With formal academic training in Medicine, Computer Science, International Health, and Telehealth, Dr Fatehi has an excellent understanding of the design, implementation, and evaluation of digital health solutions for healthcare. He has more than 15 years of research experience in the field of eHealth and digital health, including a one-year post-doctoral fellowship in mobile health (mHealth) at CSIRO's Australian eHealth Research Centre, and a 3-year Advance Queensland research fellowship in Digital Health at The University of Queensland. He has demonstrated skills in both qualitative and quantitative methods, as well as the design, conduct, and management of complex health services research projects.
Dr Fatehi is an elected member of the International Academy of Health Sciences Informatics, and a member of the Telemedicine Workgroup of the International Medical Informatics Association. He has developed and sustained an international track record in telemedicine, eHealth, and digital health and has continuously contributed to scholar publishing as a member of the editorial board or peer-reviewer of several scientific journals.
Register here.
About Queensland Digital Health Education Series
Queensland Digital Health Education series
UQ's Queensland Digital Health Centre and Metro North's Queensland Digital Academy co-present the Queensland Digital Health Education series to bring clinicians, academics and researchers together to hear up-and-coming innovations and applications of informatics in healthcare.
The sessions inform and update participants on the latest developments in research and how health informatics is translating to inform and directly impact clinical care and patient outcomes.