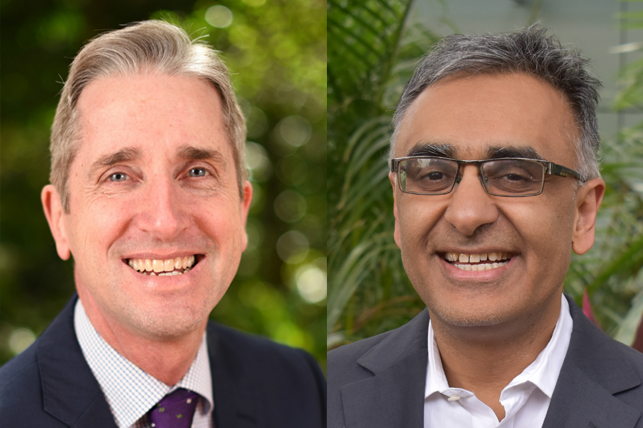 Two clinical trials for rare cancer treatments and a dialysis education program led by University of Queensland researchers have been awarded more than $7.6 million in grants.
The funding is part of the Medical Research Future Fund's  Rare Cancers, Rare Diseases and Unmet Need Clinical Trials program.  
UQ Executive Dean of Medicine Professor Geoff McColl said the grants reflected the importance of research into rare diseases.
"Rare diseases can be overlooked in medical research but that doesn't make the needs of patients with these conditions any less relevant or pressing," Professor McColl said. 
"UQ is proud to host researchers striving to fulfil unmet medical needs and those developing  cutting-edge treatments on the cusp of becoming reality through clinical trials.
A $3.5 million grant will fund Mater Research Institute-UQ Director of Clinical Research Professor Maher Gandhi's clinical trial of new cell-based immunotherapies for a rare sub-type of lymphoma.
"Roughly 15 to 20 per cent of diffuse large B-cell lymphoma cases are unresponsive to conventional first-line therapy," Professor Gandhi said.
"Approximately 360 to 480 such cases are diagnosed each year, with life expectancy for most patients only 10 months.
"This grant means I will finally be able to provide Australian patients a therapy in a controlled, systematic manner – something that my lab has spent many years working towards."
A $1.6 million grant will support a phase II immunotherapy clinical trial for patients with Merkel cell carcinoma, an aggressive form of skin cancer . The trial will be conducted by Dr Wen Xu, from the Princess Alexandra Hospital Southside Clinical Unit..
A $2.3 million grant to Professor David Johnson the Centre for Health Services Research to trial the TEACH-PD training program for peritoneal dialysis patients and nurse trainers in Australia and New Zealand.
It's hoped TEACH-PD can reduce the burden of dialysis-related infections and improve patient outcomes, including quality of life for patients with end-stage kidney disease.
The $20 billion Medical Research Future Fund was established to fund vital medical research. 
Media: Faculty of Medicine Media, med.media@uq.edu.au, +61 7 3365 5118, +61 436 368 746.